UK Businesses urged to get ahead of new BRC 8 Food Safety Standard
16 August 2018
With food safety practices increasingly under the limelight, Bureau Veritas is urging businesses to act now in order to comply with the new BRC Food Standard Issue 8, a revised auditing framework set to redefine product safety in the food sector.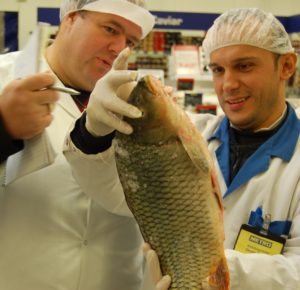 Published in August 2018, the BRC Food Issue 8 has been introduced in order to create a standardised approach to food safety for food supply chains across the world. As such, it features a number of significant changes in relation to providing greater clarity on pet food practices, expanding the requirements of environmental monitoring and stepping up monitoring of high risk production risk zones – all designed to ensure global applicability and bench-marking to the Global Food Safety Initiative (GFSI).
After a transition phase of six months, the standard will replace the current Issue 7, with assessments against the new version of the standard set to commence from 1 February 2019.
It comes amid a rising spate of food safety breaches after the Food Standards Agency admitted that the past year has seen the regulator face the most significant international and domestic food incidents since 2013, namely referring to Fipronil imported eggs and non-compliance at several meat cutting plants across the UK1.
Joy Franks, Food Market Director – Europe Operating Group for Bureau Veritas, said: "Although food safety is at the top of the agenda for many businesses in the food manufacturing, processing and packing industry, there are still more than 2,000 foods, feed and environmental contamination incidents in the UK each year, raising concerns about possible threats to the safety, quality or integrity of food and feed, as well as actual and confirmed threats.
"As an industry, we have a huge job to do in placing greater emphasis on improving food safety culture; which the BRC Food Issue 8 will hopefully address with its clear focus on simplifying and creating a robust framework for assessing and tackling emerging issues raised by stakeholders and suppliers alike."
According to Bureau Veritas, one of the main issues facing the industry is the persistent high level of product recalls, which is often down to the incorrect labelling of products, either due to incorrect information printed on labels or a wrong label stuck on the product. To combat this, the revised standard has added a new clause that states businesses must adequately train all their staff, including agency, temporary and contractors, on the correct labelling and packing of products.
What's more, for the first time ever, the food safety standard compels a site's senior management to define and maintain a 'clear plan for the development and continuing improvement of a food safety and quality culture'.
Joy adds: "Whilst the introduction of BRC Issue 8 is a welcome step forward in raising safety standards in the UK industry in-line with the evolving challenges of the global food market, for many these new auditing requirements will no doubt be hard to decipher and potentially confusing to put into practice. That's why, for businesses keen to ensure a smooth transition to compliance, our advice is clear – act now to get to grips with the revised standard as soon as possible."