UK Businesses urged to get ahead of new BRC 8 Food Safety Standard
With food safety practices increasingly under the limelight, Bureau Veritas is urging businesses to act now in order to comply with the new BRC Food Standard Issue 8, a revised auditing framework set to redefine product safety in the food sector.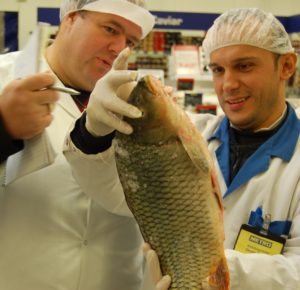 Published in August 2018, the BRC Food Issue 8 has been introduced in order to create a standardised approach to food safety for food supply chains across the world. As such, it features a number of significant changes in relation to providing greater clarity on pet food practices, expanding the requirements of environmental monitoring and stepping up monitoring of high risk production risk zones – all designed to ensure global applicability and bench-marking to the Global Food Safety Initiative (GFSI).
After a transition phase of six months, the standard will replace the current Issue 7, with assessments against the new version of the standard set to commence from 1 February 2019.
It comes amid a rising spate of food safety breaches after the Food Standards Agency admitted that the past year has seen the regulator face the most significant international and domestic food incidents since 2013, namely referring to Fipronil imported eggs and non-compliance at several meat cutting plants across the UK1.
Joy Franks, Food Market Director – Europe Operating Group for Bureau Veritas, said: "Although food safety is at the top of the agenda for many businesses in the food manufacturing, processing and packing industry, there are still more than 2,000 foods, feed and environmental contamination incidents in the UK each year, raising concerns about possible threats to the safety, quality or integrity of food and feed, as well as actual and confirmed threats.
"As an industry, we have a huge job to do in placing greater emphasis on improving food safety culture; which the BRC Food Issue 8 will hopefully address with its clear focus on simplifying and creating a robust framework for assessing and tackling emerging issues raised by stakeholders and suppliers alike."
According to Bureau Veritas, one of the main issues facing the industry is the persistent high level of product recalls, which is often down to the incorrect labelling of products, either due to incorrect information printed on labels or a wrong label stuck on the product. To combat this, the revised standard has added a new clause that states businesses must adequately train all their staff, including agency, temporary and contractors, on the correct labelling and packing of products.
What's more, for the first time ever, the food safety standard compels a site's senior management to define and maintain a 'clear plan for the development and continuing improvement of a food safety and quality culture'.
Joy adds: "Whilst the introduction of BRC Issue 8 is a welcome step forward in raising safety standards in the UK industry in-line with the evolving challenges of the global food market, for many these new auditing requirements will no doubt be hard to decipher and potentially confusing to put into practice. That's why, for businesses keen to ensure a smooth transition to compliance, our advice is clear – act now to get to grips with the revised standard as soon as possible."
Building work went ahead without asbestos check by UK company
A UK property management company has been fined £15k for failing to undertake an asbestos survey prior to undertaking extensive refurbishment works.
Between April and May 2017, Thistlemoor Healthcare and Management Ltd undertook construction work at two properties, one of which was part of a medical centre in Peterborough. In this time, the company failed to carry out an asbestos survey for either property, both of which were likely to contain asbestos.
The HSE's investigation found the company undertook and carried out construction which was likely to disturb asbestos containing materials during the strip out and part demolition of the two properties. Despite this, the company failed in its duty to carry out an asbestos survey for either property.
Tesco fined after employee fractured pelvis
Thistlemoor Healthcare and Management Ltd of Thistlemoor Road, Peterborough pleaded guilty to breaching Regulation 5 of Control of Asbestos Regulations 2012 and was fined £15,000 with costs of £1,805.60.
Speaking after the hearing, HSE Inspector Samantha Wells said: "The risk of exposure to asbestos could so easily have been avoided if the company had carried out a suitable and sufficient asbestos assessment to identify the presence of asbestos within properties prior to commencing refurbishment work.
"Companies should be aware HSE will not hesitate to take appropriate enforcement action against those that fall below the required standards."
Foodborne Outbreak in the UK & Europe
Listeria monocytogenes: update on foodborne outbreak
The Food Standards Agency has issued the following information on the current food poisoning outbreak caused by frozen sweetcorn and other frozen vegetables
Frozen corn and possibly other frozen vegetables are the likely source of an outbreak of Listeria monocytogenes in the UK and across Europe.
It is essential that defrosted frozen sweetcorn or vegetables are not eaten without cooking (ie. do not add to salads or sandwiches unless cooked first).
As of  June 2018, 47 cases including nine deaths have been reported.
Frozen sweetcorn is the likely source of an ongoing outbreak of listeriosis affecting five European countries including the United Kingdom.
Listeriosis is a rare but serious foodborne illness caused by the bacterium Listeria monocytogenes that can be more serious for those individuals who have weakened immune systems and also the elderly, pregnant women and infants.
The Food Standards Agency, Food Standards Scotland, Public Health England and Health Protection Scotland are reminding people that most frozen vegetables, including sweetcorn, need to be cooked before eating. This includes if adding them to salads, smoothies or dips.
How clean are your employees hands?
Cleanliness is next to ………..  food poisoning?   How clean are your team's hands?
How hot is your kitchen this week? Very, I hear you shout.  Unfortunately, bacteria loves this level of heat.  It is the perfect heat for multiplication of bacteria so it is essential to keep all your chopping boards, knives, work surfaces and hands scrupulously clean.
The most common cause of food poisoning illness is from human bacteria (ie. your staff).  So check that your whole team adheres to the following hand washing procedure:–
Wash hands with antibacterial handwash soap and use hot water.  Wash hands thoroughly including the palms and between the fingers.  Use blue roll or handtowels to dry hands.
Wash hands –
After a toilet break
After sneezing, coughing
After touching hair
After handling raw foods
After changing any task within the kitchen
Before handling food
After taking in deliveries.